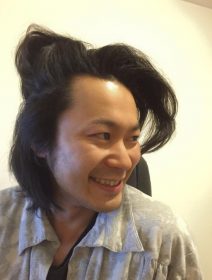 Yuta Hamaguchi
was born in Osaka, Japan. He started to dance on street
on 1997. He won Japanese national street dance competition 1 time first
praise, and 2 times third praise.

On 2005, he moved to Europe and shift his detection from
entertainment dance to contemporary performing
art and worked in Cinevox Junior Company ( 2005-2006 )Polish
dance theater(2006-2007) and Landestheater Coburg(2008-2011)

On 2011, he became freelancer and research art/installations as
communication and how to standardize for Hip-Hop street dance style to
contemporary dance style.

Worked with Angie Hiesl production, Sabine Seume, Sidi Larbi Charkaoui,
Eun-Sik Park at Theatro alla Scala, Staatsoper Berlin, Deutscheoper am
Rhein, Tanzhaus NRW, Galleries, on the street to experimental
performances.